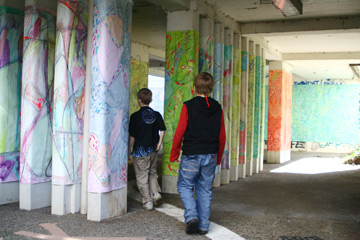 PHOTO: DANIEL SCHNIER
In Buffalo, New York,
Linda Anderson
has been painting on a huge walk through installation for the pillars of Sproutbau. She mailed the wrapped paintings in time: but it took a fierceful (and charming) Mia U. to claim them from custom, where they originally intended a delivery right after the Betonale. When we unwrapped the paintings they still carried the smell of fresh acrylics/oil.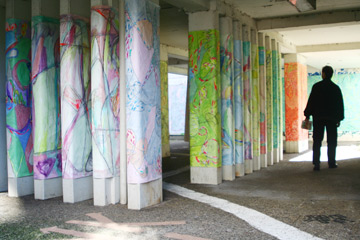 PHOTO: DANIEL SCHNIER
It was an adventure to hang them. Linda had sent us instructions that were perfect: but what she couldn´t have taken into account was the heavy wind, the rain, the fresh graffiti. All forces that made it difficult to stick to the plan.
PHOTO: DANIEL SCHNIER


We then changed the settings and put the paintings up in an order we thought still gave them a vibrant look and where they wouldn´t be food for mean weather.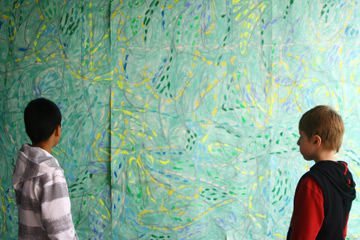 PHOTO: DANIEL SCHNIER


In the end it was a great success. People would curiously stop and examine the exterior gallery. We were afraid the paintings would get damaged but they were treated respectfully and with awe. Especially children liked to race through the art and cheered the look of the brightful colors.